TruXposure VR
TruXposure VR v0.6.8 Out Now!
---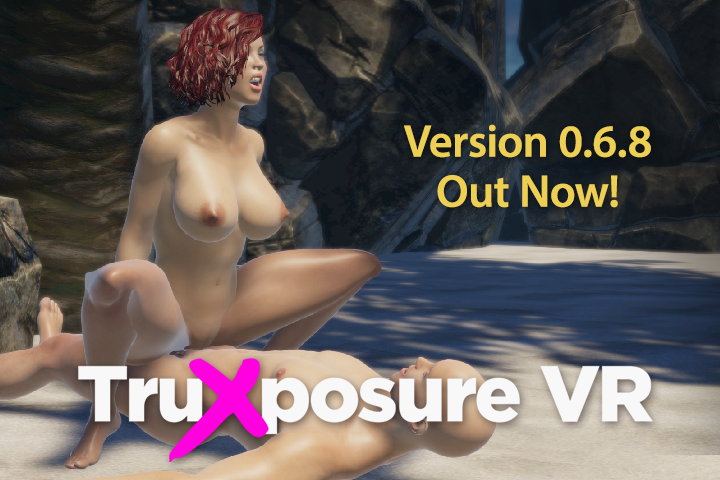 Hey everyone!
We've got an extra hot update for you this time around. We've been building up towards this for a while now, but we now have a fully "equipped" male model named Nick to play with the girls! We're kicking things off with 2 new hardcore scenes (tailored for each girl) for you to discover.
Along with new and improved animations, we've also been working hard on the audio side of things. First, we replaced all the sounds for the sexual animations with more realistic and natural ones. The result is a much more immersive and erotic experience. On top of that, we've also added a music player (with three music tracks to choose from) to add to the ambience. You can choose to mute the music as well if you are looking for a more quiet atmosphere.
And, last but not least, we've also added a number of new outfits for the girls. This time around, you'll have 3 new swimsuits to choose from.
Here's a breakdown of the new features and additions you'll find in v0.6.8:
Demo Edition v0.6.8 (downloadable from itch.io here):
Introducing Nick, the first male sex partner!
Introducing a scene music player with 3 debut tracks
2 new hardcore animations for Ginger
1 new dance animation for Ginger
1 new swimwear outfit for Ginger
Patreon Edition v0.6.8 (downloadable from Patreon here):
All of the above plus all of the below
2 new hardcore animations tailored to each model
1 new dance animation
3 new swimwear outfits in total
Let us now what you think!
Files
TruXposure VR: Demo Edition v0.6.8 (Win 64-bit)
820 MB
Aug 18, 2021